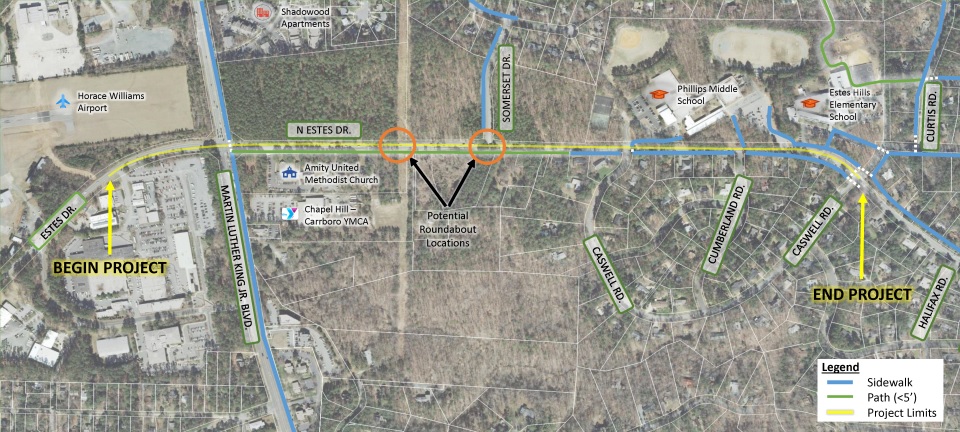 The Town of Chapel Hill is holding a pair of virtual meetings this week to give residents an update on the Estes Drive Connectivity Project.
The project, set to begin construction in later August or early September, is designed to improve bicycle, pedestrian, and vehicle traffic on the busy Estes Drive corridor from Martin Luther King Jr. Boulevard to Caswell Road.
The project is not new: town officials say it dates back to 2009, when Chapel Hill first received federal funding to improve bicycle access along Estes Drive. Later, the town identified Estes Drive as a priority for bicycle and pedestrian improvements as part of the 2013 Central West Small Area Plan, an outgrowth of the Chapel Hill 2020 comprehensive planning effort. The current plan is based in part on public comments that were gathered back in 2015 and 2016.
Learn more about the Estes Drive Connectivity Project here.
The current plan for Estes Drive involves the installation of raised bike lanes, a new sidewalk on the south side of the road and a ten-foot multi-use path on the north side of the road. The construction also includes potential roundabouts just east of MLK Boulevard, intended to improve vehicle traffic.
Town officials say connectivity along the Estes corridor is important, particularly after the Town Council's recent approval of the Aura development at the corner of Estes Drive and MLK Boulevard.
This week's public information meeting will take place on Wednesday, August 4, from 6:30 p.m. to 8:00 p.m. On Thursday, August 5, the town government will also host a virtual drop-in session from 11:30 a.m. to 1:00 p.m., where residents can ask questions about the project.
You can register to attend Wednesday's virtual meeting at this link.
You can register to attend Thursday's virtual drop-in session at this link.
Featured photo via the Town of Chapel Hill.
---
Chapelboro.com does not charge subscription fees. You can support local journalism and our mission to serve the community. Contribute today – every single dollar matters.
The post Interested in Traffic on Estes Drive? Attend a Public Info Session This Week appeared first on Chapelboro.com.